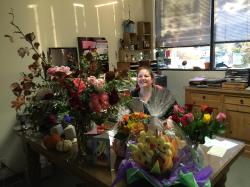 What else do you love about your business?
Just when I think i have it all figured out, it completely changes. Keeps me on my toes! Many of the services I provide are generated by my client's growing needs. They require something different, something extra, and I find a way to fulfill those requests. Then I extend those services to other clients. It is so exciting to see a need, find a way to fulfill it and then use the new knowledge to benefit the whole.
Talk about the business management part of your company.
Clients often utilize me as support—when you're a small business owner and you want to expand it can be scary. They need someone in their corner who can guide them and help them figure out what questions to ask that will put things into perspective. One of my accountants calls me 'The Cheerleader!" During crucial growth times, clients need to feel someone has their back. That's what I provide.
What is your favorite type of client?
I like clients want to learn and understand and work with me rather than me just doing a job for them. It's important to work in partnership: it's powerful in helping someone bring their vision to life... What I mean by that is when they have a goal, I can focus on that goal as much as I want but if they are not doing their part, it's just not going to happen. The magic happens when there is a synergy between the client and dash.
What sets you apart from other bookkeeping and management firms that offer similar services?
Every year we hold the "Summer Training Series" at the office. CPA's, Attorney's, Bankers and others speak on the latest practices and relevancies in their field. This allows my account managers, who work so intimately day-to-day with our clients, to know what to bring to my attention so that I can go to the client and offer them suggestions that will enhance their financial position. That ongoing education is very, very important. Also, and this is almost unheard of in the bookkeeping world, three of my employees have been with me for over ten years and two have been with me for over six years. And a third of my clients have been with me for over ten years. They know my account managers and that's very comforting to them.
Your passion comes through, Donna! What else are you passionate about?
First and foremost I am a puppy Mom to my 16-year-old, 15-pound dog Bailey. He means the world to me. I love gardening. I got that from spending summers on my family's farm, and I love cooking. I got that from both of my Grandmothers. One taught me Polish cooking and the other Mediterranean Italian. I love cooking for people with food from my garden!
Where did you grow up?
I was born in Jersey and my family moved to California when I was young, but I'm still a Jersey girl at heart!
If you had to pick a last meal, what would it be?
That would have to be my Mom's Chicken Milanese and stuffed artichokes. If I could make it myself, that would be another story!
What about your life tickles you the most?
I just turned 50. I'm excited about taking everything I've learned in my career and in my life and starting to plan... I think that tickles me right now, setting myself up so the rest of my life is as fantastic as it can be.